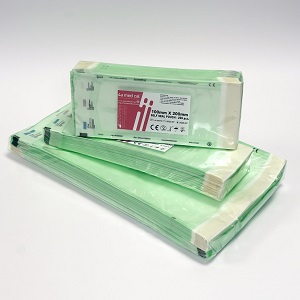 Product Features 
• Self Sealing Pouches can be sealed with their self-adhesive feature on the closing part of pouch without need of sealer.
• Medical Paper provides maximum safety.
• Excellent adhesive resistant to over-exposure of steam.
•Superior barrier and quality with 60gsm or 70gsm medical kraft paper.
• Steam, EO and Formaldehyde (FO) indicators are water based and non-toxic
•Strong seal-strength, visible sealing lines.
•Clean fibre-free opening.
•All materials comply with international standards.
•Opening direction marked.
•Conformity with EN 868-5.
•Apart from those standard sizes, as long as the width is one of the standards, there is no limit at lengths.
• Self Sealing Pouches are packed as 100 pieces wrapped in film according to requested dimension
Note: Sterilization Bags can be produced with your trademark.
Product Types and Sizes
They are pre-cut size sterilization envelopes according to customer request.